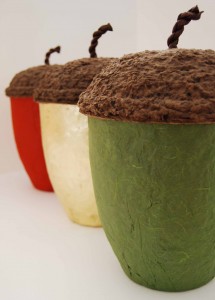 The Ecopod is a revolutionary and beautiful new design in coffins that brings together artisan skills with style, elegance and a respect for the environment.
Made by hand from recycled newspapers and hand finished with paper made from 100% mulberry pulp, the Ecopod is available in a range of colours with screen printed motifs, plain white, or gold.
We also manufacture the ARKA Acorn Urn for the storage of ashes after cremation and, like the Ecopod, the urns are made from recycled paper, available in a number of colours and fully biodegradable.
The Ecopod has become a leading international icon in the growing world of natural funerals and is featured regularly by the international press and television.
ARKA Ecopod is based in Brighton, East Sussex, in the United Kingdom.
We can be contact either via info@ecopod.co.uk