ARKA Acorn Urn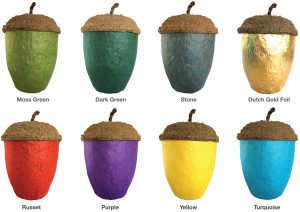 Acorn Urns are fully biodegradable and ideal for the burial of cremation ashes. Available in eight finishes, the shaped lid and base are made from moulded recycled kraft and paper. The stalk of the lid is made from a special twist of tissue paper.
The coloured urns are finished with a paper made from mulberry pulp and, like the Dutch gold foil urn, they are supplied individually boxed. An optional 100% cotton draw string, inner bag is also available.
The Acorn Urns are hand finished in the UK. They are light weight (approx 260g). The urn base stands 22cm tall with a 19cm diameter at the top opening, creating a volume of 4 litres.
ARKA Acorn Urns are available in choice of 7 colours and Dutch Gold Leaf:
Moss Green, Dark Green, Stone, Russet, Purple, Yellow, Turquoise
Dutch Gold Leaf – the base is prepared with dark red paper before the Dutch Gold Leaf (an alloy of copper and zinc) is applied. Small cracks and breaks that naturally appear in the surface of the leaf, allow the underlying red surface to show through, adding to the overall richness of the finish.
Cotton Ashes Bag – optional extra
Can be supplied with a 100% cotton, draw string ashes bag for the interior. 
How to Purchase Retail – UK
ARKA Acorn Urns can be purchased from the internet, including the specialist ashes urn websites below, for delivery to your home, or your chosen funeral director. Acorn Urns can also be purchased from any funeral director. The ones we have listed below are regular customers and carry stock.

How to Purchase Retail – Europe
Please follow this link for further details.
How to Purchase Retail – North America
ARKA Acorn Urns can be purchased directly from the Oregon based  Natural Burial Company
How to Purchase Wholesale – UK
Funeral directors, celebrants, woodland burial sites, local authorities and other business related enquiries, please email info@ecopod.co.uk or telephone 07974 794 115.
How to Purchase – All Other Countries
Most of the urn websites above will ship to countries around the world. Mementi Urnen is based in Germany. If you would like further help, please contact us at info@ecopod.co.uk