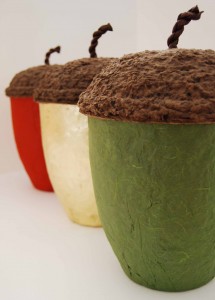 The Ecopod is a revolutionary and beautifully designed coffin that brings together artisan skills with style, elegance and a respect for the environment.
Made by hand from recycled newspapers and hand finished with paper made from 100% mulberry pulp, the Ecopod is available in a range of colours with screen printed motifs, plain white, or gold.
Ecopod – Temporarily Out of Production
While we explore a number of new and exciting manufacturing possibilities, including the setting up of a hand making operation in North America in conjunction with the Natural Burial Company, the Ecopod is unfortunately temporarily unavailable. Please click here to e-mail us with your details if you would like to be added to our mailing list and kept up to date.
ARKA Acorn Urn still available for the storage of ashes after cremation and, like the Ecopod, the urns are made from recycled paper, available in a number of colours and fully biodegradable. Follow the links for more information.
.