Coloured Ecopod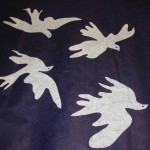 The inner base of the coloured Ecopod is covered with a natural calico mattress and the interior painted light cream, or white, using eco-friendly paints.
As an optional extra, the walls of the interior can also be lined with feathers in a choice of colours, including  white, red, cream or pale blue.
The handles are a combination of metal and bamboo, and are inserted through loops at the ends of each carrying strap. They have been designed so that they can be removed prior to burial or cremation, and disposed of separately, or returned to us, as preferred.
Two sizes are available:
Size 1 – height up to 5'3″; carrying a weight of up to 15 stone (210 lb or 95.25 kg)
Size 2 – height up to 6'0″; carrying a weight up to 18 stone (252 lb or 114.30 kg)
Both sizes are available in:
Indigo Blue – plain
Indigo Blue with white screen printed doves
Indian Red – plain
Indian Red – screen printed with an Aztec Sun
Forest Green – plain
Forest Green – with screen printed Celtic Cross
White – plain
Gold – plain
For further information, please e-mail info@ecopod.co.uk