Ecopod Development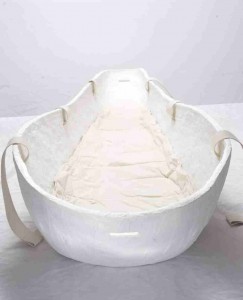 Over 12 years of care, development and market research went into creating the Ecopod. Inspired by the process of regeneration and new life, we wanted to give the Ecopod a unique shape and make it from biodegradable materials.
By finishing it in brightly coloured papers we also knew that we could help to move funerals away from their more sombre tradition, towards a more inspiring celebration of the life that has passed.
Our special strap and carrying system made it easy for family and friends of different heights to carry the Ecopod at the funeral and to be more involved at the ceremony if they wished. This removed the need with conventionally shaped coffins for six people, usually undertakers and of the same height, to carry the coffin on their shoulders.
Starting out with simple drawings and many small scale prototypes, the first full sized Ecopod took shape in the late 1980s.
For a long time, Ecopods were in full production in our
workshop
in Brighton, East Sussex, UK.
Made by hand from recycled, post consumer newspapers and a natural hardener, which gave it an incredible strength. The Ecopod itself weighed only 18 kilos (approximately) and the largest size would readily carry a person of up to 18 stone (114.3kg).