Press Media & Weblinks
Media links to the Ecopod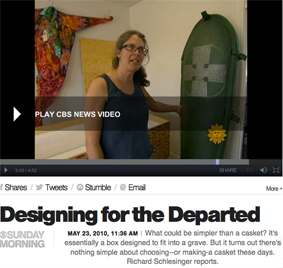 CBS Sunday Morning
In 2010 CBS in the USA had a news article called Designing for the Departed that shows some interesting alternatives to the traditional American all metal casket – and of course the Ecopod is amongst them at Mourning Dove Studios, Arlington MA.
For more information about the Ecopod and Acorn Urn in North America, please contact our exclusive representative and distributor, the Natural Burial Company.
Promoting our Recycled Content
The City of St. Louis Refuse Division website included a link to the Ecopod and our exclusive distributor in North America, the Natural Burial Company, encouraging citizens to think about buying products that have a post consumer recycled content.
Death For Beginners – is both a book and a web site (www.deathforbeginners.com) authored by USA educator and broadcaster Karen Jones, as a practical guide for arranging a graceful exit.
You Tube links to the Ecopod
To die for: Biodegradable coffins and the latest green must have
Further Information
If you would like further information about either product, permission to use any of the images from the web site (high and low res available), or to talk to Hazel Selene about the Ecopod or the ARKA Acorn Urn, please e-mail us via info@ecopod.co.uk