The Power of Making
Victoria & Albert Museum, London
6th September 2011 – 2nd January 2012
On the Victoria & Albert Museum website, Guest Curator, Daniel Charny says about the exhibition:
"The V&A and Crafts Council celebrate the role of making in our lives by presenting an eclectic selection of over 100 exquisitely crafted objects, ranging from a life-size crochet bear to a ceramic eye patch, a fine metal flute to dry stone walling. Power of Making is a cabinet of curiosities showing works by both amateurs and leading makers from around the world to present a snapshot of making in our time.
The exhibition showcases works made using a diverse range of skills and explores how materials can be used in imaginative and spectacular ways, whether for medical innovation, entertainment, social networking or artistic endeavour."
Our Experience of the V&A Exhibition, as ARKA Ecopod:
We were incredibly flattered to get a telephone call in June 2011 from the Victoria & Albert Museum, London, an organisation of world renown and regard, asking if they they could include an Ecopod in their exhibition,
The Power of Making.
It was a privilege to have been asked, and of course we said 'Yes' without a second's hesitation. We knew that it would be a stunning exhibition and, because it was being organised by the Victoria and Albert Museum, that the items on show would be of world wide interest.
It is very flattering indeed to see the Ecopod on such an impressive stage and to have the Ecopod and what it represents, receiving this recognition. With nearly 10,000 visitors a week passing through The Power of Making, we highly recommend a visit there if you get even half a chance.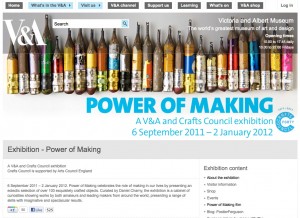 To find out more about the exhibition, please visit the
Victoria and Albert Museum website and follow the links to
The Power of Making Exhibition.
Please Note:
Images and The Power of Making logo are copyright to
the Victoria and Albert Museum
and are used with permission.